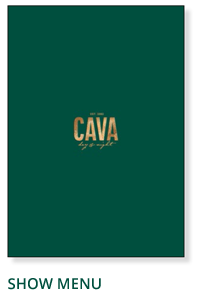 The idea behind the CAVA menu is healthy food and care for the environment. That is why our dishes are made of fresh ingredients from trusted suppliers and organic farms.

Together with Tadeusz Muller, we created dishes inspired by Mediterranean cuisine in its modern interpretation and a touch of the Polish style. Each of the dishes impresses with colours and interesting flavours. The menu has a large selection of breakfasts, desserts, dinners and tapas as well as Italian pizza and burgers on freshly baked brioche. To meet the expectations of our guests and keep up with changing trends, we offer a great selection of fish and vegetarian dishes.
Working at Cava
Apply for the vacancy today:
waitress
barrista
cook
manager
What we look for:
commitment
flexibility
pleasant appearance and high personal standards/etiquette
english language – communicative level 
What we offer:
friendly and young environment
promotion opportunity
stability of employment
attractive renumeration/pay
Please forward your CV including a recent photograph to: rekrutacja@cava.pl
with the subject title stating the role you are applying for.
https://cava.pl/en/reservation